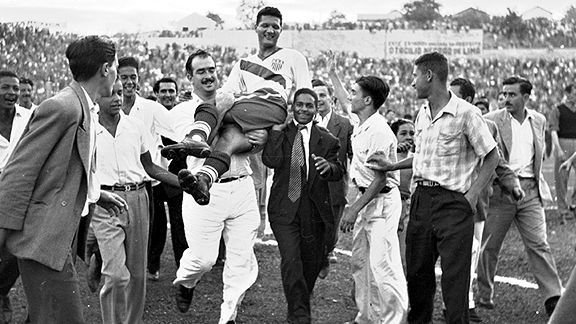 A first-half strike by Joe Gaetjens, a centre-forward who was born in Haiti, inflicted ignominy on England in their maiden World Cup campaign and the verdict in The Times the following day was damning: "Probably never before has an England team played so badly. The chances they missed were legion."
Simon Hart, "Bert Williams: 'The pain has been with me ever since," The Independent (June 6, 2010)

Joe Gaetjens once played soccer on the grounds of Fort Dimanche, a collection of ochre-colored concrete buildings thrown up in the '20s as an ammunition depot and riflery range. Soon after coming to power Duvalier turned the complex into a center of detention and death. Gaetjens was one of some 3,000 people to go in and never come out.
Alexander Wolff, "The Hero Who Vanished," Sports Illustrated (March 8, 2010)

When we finally learn more about Joe Gaetjens, the Haitian striker who scored the only goal in the United States' astonishing victory over England at the 1950 World Cup in Brazil, we discover the man was just a man. One who, like all of us, wanted more than he had.
Leander Schaerlaeckens, "Chasing Gaetjens," Espn.com (February 16, 2010)